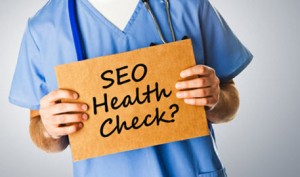 Is your website SEO healthy?  For good Search Engine Optimization, your website may need an SEO health check.
What is SEO Health?
SEO stands for "search engine optimization" and it is the process of getting web traffic from the listings on search engines.  The most effective way for improved SEO is by employing techniques to achieve "free" or "organic" better search results on the "big three" – Google, Yahoo and Bing.
There are many components to these SEO techniques just like there are many factors that influence physical health.  Good health is not just one thing, but a combination of things including a healthy body, a good and steady diet, a social life with minimal stress, and friends with that share healthy values.
Here are 5 tips for better SEO health.
1. A Healthy Body
A good body is a sign of good health.  (Not necessarily a Channing Tatum or Beyonce body with smoking ads, although that won't hurt.)  For good SEO health a website needs a healthy body, or more accurately, a good structure.
The phrase "good structure" sounds a bit boring and even geeky.  But the HTML coding of an SEO healthy website needs to be structured so that it can easily be scanned and read by search engines.  One of the easiest ways to do this is use WordPress.  The structure of WordPress is SEO friendly and easy for the SEO spiders to scan.
Google LOVES WordPress websites.  See the following Article:
http://www.prunderground.com/google-loves-wordpress-seo-dream-beginners/009070/
Here are a couple of FREE WordPress plugins that can help boost SEO:
2. A Healthy Diet
You are what you eat.   Most everyone agrees that a a good diet is essential for good health.  For good SEO a website needs a steady and good diet of healthy content.
On the Web, content is king.  Search engines have stated that creating quality content is the best way to rank for keywords.  And it helps create a positive user experiences.
An important part of content is an SEO phrase.   An SEO phrase is a short description of a website that is 160 characters or less including the site name and keywords.  The trick is to use these keywords in coherent sentences.  For example, for the keywords "technology" and "kitten" (hey, it could happen) here is a potential SEO phrase for TechAdvocate Solutions:
TechAdvocate Solutions can make your technology purr like a kitten.
This SEO phrase should be included on the home page and in an SEO plugin.
3. Healthy Social Networking
A healthy social life helps maintain a positive outlook which is vital to robust health.  In terms of SEO this translates into social media.  Putting links to a website on a Facebook page promotes traffic and increases SEO.  The idea is to use social networking to drive traffic to a website and not the other way around.
The most important social networks are Facebook, Twitter, Google+, and Linkedin (for business sites).
Here is one example of a FREE WordPress plugin that will encourage others to share your posts on social media:
http://wordpress.org/extend/plugins/twitter-facebook-google-plusone-share/
4. Good Company – Backlinks
Associating with others who have a healthy lifestyle helps entourage good habits and better health.  Linking (backlinks) is a way to put a website in good company.    A backlink is simply a link to a website in another website (including social media).
Obviously, one of the best ways to create links is social media.  Another way is to publish on other sites.  Publishing is more conventional way to create links, but requires a bit more work.
5. Good Health Looks Good
Nothing says good health like looking good.  Pictures on a website increase appeal and attract search engines.  But large bloated picture files can actually hurt SEO as well as slow down a website.  Google penalizes search engine ranking if pictures are large and hog bandwidth.  The biggest offender are pictures transferred from a Smartphone without resizing for a website.  Most Smartphone picture files are around 1 MB, but pictures on a website should be less than 200 KB.
Here's a Biology of Technology post to help keep website pictures "lean-and-mean."
Size Matters for Pictures on a Website
A Personal Trainer for Your Website
Feel like you could use a personal trainer to help improve your website SEO health?
Interested in setting-up your WordPress website?
Click here and fill-out the short form to setup your first session. 
Still have questions.  Here's a video that explains SEO: