Here are some tech tips just for you!
This page contains helpful tech tips and tricks to help with your WordPress website.
Site Title and Tagline
The Site Title and Tagline usually appear in the header.  It also can impact your search engine optimization (SEO).  To change:
Click Settings > General
Writing/Editing a Page and Blog Post
Writing a page and a blog post are the core activities of your website.  It's easy!  These directions are for a blog post, but the instructions are the same to create/edit a page.
To Create/Edit a Blog Post:
Click Post  >  Add New
Use on the WordPress online editor to write the title, write your post, and click Publish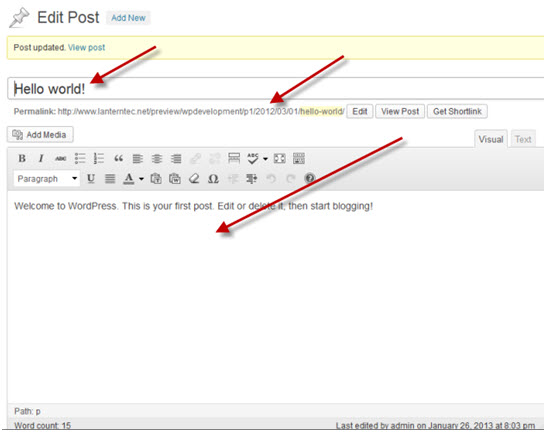 Using MS Word
If you use a word processor such as MS Word to create your posts, use the following procedure for a clean copy-and-paste into WordPress.
Create your document in Word
Copy your text from Word into the Windows clipboard
In WordPress, when creating a post click the "show kitchen sink" button:


Click the "Word Paste" button:


A window will appear where you can insert your Word content.
It is best to do minimal formatting in MS Word and use WordPress format tools.
Using the "More" Tag to Break-up a Long Blog Post

For blog posts, use "More" feature to put a "break" on the post.  This allows for more posts to be displayed on the blog page and encourages "clicks" into your site which improves SEO.  To put a more tag in a post:
Edit the post
Put the curser in place in the post where you want the break to occur
Click "Insert More Tag" in toolbar:


Embed a YouTube Video on a Post/Page
You can easily embed a YouTube video into a post or a page by adding a YouTube link.  Simply put the URL for the YouTube in the post or page using the visual editor.
WordPress Themes
Go to the following website for over 1000 free WordPress themes!
http://wordpress.org/extend/themes/
Suggestion:  Click "Most Popular" in the right column.  Find a theme(s) you like.
What makes this website project so affordable is selecting an established WordPress theme that looks as close as possible to what you want.  Selecting an established WordPress theme is like going to IKEA or Home Depot and selecting cabinets for your kitchen.  Using a WordPress theme keeps your website project affordable and in price range of the proposal.
TAS can build you a customized theme to your specifications
TAS can build a customized theme from scratch.  As opposed the "IKEA/Home Depot" cabinet comparison discussed above, this is analogous to hiring a custom cabinet maker to build cabinets to your exact specifications.  Pricing is determined on a case-by-case basis.
Web Stats
As part of your hosting agreement at LanternTec you will have access to a rich set of server-based web-stats to analysis the traffic to your website.  He's the link to a sample of the web stats:
http://www.lanterntec.com/awstats/awstats.pl?config=webadvocate2
See online help for an explanation of these stats.
These are private stats and not shared with a third party. Other analytic packages will share and sell your web data to marketing organizations, but not LanternTec / TechAdvocate Solutions.
If you want to use Google Analytics, here's all you need to do:

Search Engine Optimization – All-in-one SEO Pack
Recommended WordPRess Plugin:  All-in-one SEO Pack
http://wordpress.org/extend/plugins/all-in-one-seo-pack/
You can edit SEO info about your website to help with search engine ranking.
To do this log-in as admin, click "Settings" (left column) -> "All in One SEO".
Write a short description (a few sentences) of your organization in the "Home Description:" box.
SEO TIP: Include your website name and keywords you want associated with your website in this description. The trick is to use these keywords in coherent sentences. For example, if you want the keywords "technology" and "kitten" (hey, it could happen) you could put something like this in the Home Description:
TechAdvocate Solutions can make your technology purr like a kitten
You should include this description on the "About" page or somewhere on your website.Google XML Sitemap installed and activated. (This really helps you get noticed by Google.)
Write SEO for each page: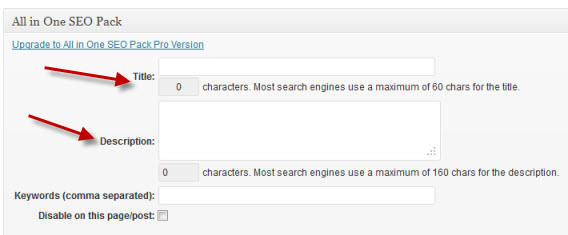 Recommended WordPress Social Media Plugins:
http://wordpress.org/extend/plugins/twitter-facebook-google-plusone-share/
http://wordpress.org/extend/plugins/social-media-widget/