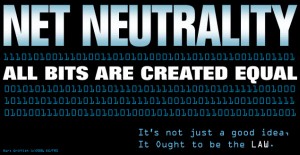 UPDATE – 1/15/2014
Based on the anti-Net Neutrality ruling from 1/14/2014, here's a post that explains why we need Net Neutrality:
On 4/6/2010 a U.S. appeals court ruled against the FCC's net neutrality regulations.  This is a defeat for Internet freedom advocates and Internet users.  But for big corporations, the same people who crashed our financial systems, this is a large win.
Here are two blog posts I wrote about the Net Neutrality that goes into more detail about his issue.
https://biologyoftechnology.com/2009/10/net-neutrality-is-back/
https://biologyoftechnology.com/2008/07/net-neutrality-is-a-big-opportunity-for-big-business/
Here's one of the many videos on YouTube that explain Net Neutrality.

If greedy corporation get their hands on the Internet to impose their will then you can kiss good-bye to the Internet as you know it.  In the world of a business controlled Web then there is nothing to stop Comcast (or any ISP) from charging tolls and fees to access specific websites.  Imagine a Facebook fee added to your ISP bill because you use a lot Facebook, or certain website painfully slow unless you purchase the "gold level" package from your ISP.  It could happen!
Before you start waving your "No Big Government" banner at me, consider this.  We have laws to protect blocks of land as national parks so everyone can enjoy them.  Otherwise big business would have bought the Grand Canyon and turn it into a billion dollar real estate development exclusively for the super wealthy.  Net Neutrality is a proposed set of laws to provide the similar protection for the Internet.  Without it we could see Internet access controlled by big business and special interest.
This is not a right-left political issue.  This is a free speech issue.  So before you hop on whatever political train-of-thought you ride, I strongly encourage you to think this through for yourself.  Be a free thinker and support a free Internet!