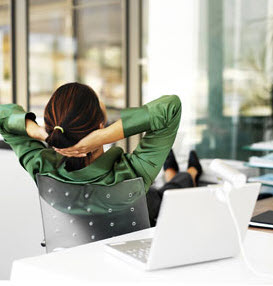 A new study suggests that wasting time online can make you more productive and a better worker.  Finally – a useful study!
According to a recent report presented at the Academy of Management, "browsing the Internet serves an important restorative function."  Sure there are other studies that cling to the tired, old cliché that you need to do work to be productive.  But tell your snooping boss that's old school and the best way to make your spreadsheets shine is to spend more time polishing your YouTube skills.
Here are some ways to waste time online for fun and profit that can make you a better (not to mention, happier) employee.
Damn you auto-correct
https://biologyoftechnology.com/2011/01/fun-with-auto-correct-texting/
A website of texting faux pas created by smartphone auto-correct that is anything but…correct.
Daily Seinfeld
http://dailyseinfeld.tumblr.com/
Great lines from a Jerry, George, Elanie, and Kramer.
I Can Has Cheezburger?
http://icanhascheezburger.com/
Cat and other animal videos with funny cations.
Stoned Cats
http://stonedcats.tumblr.com/
Pictures of cats who indulged in too much catnip.  The creators of this site update it sporadically, I'm guessing because of their own indulgences with "catnip."
Everything is Terrible
https://biologyoftechnology.com/2009/12/everything-is-terrible/
A great collection of quirky and funny offbeat videos clips.  There motto – "If Everything is Terrible, then nothing is."
The Big THREE – Facebook, Twitter, and YouTube
Need no explanation, other than the words of the immoral Betty White on Saturday Night Live describing Facebook:
"I didn't know what Facebook was, and now that I do know what it is, I have to say, it sounds like a huge waste of time."  Betty White
Dumb Tweets $ Brands
http://dumbtweetsatbrands.tumblr.com/
Customers tweeting about products when complaining to the the customer service line is just not enough.
Ray Williams Johnson YouTube Channel
http://www.youtube.com/user/RayWilliamJohnson
Ray is one of the funniest guys on YouTube (and most viewed).  His Equals-Three YouTube show reviews three viral videos with a comic twist.  Wear your headphones because Ray doesn't pull punches and says it like it is.
Anything about Justin Bieber – enough said!
Daily Show / Colbert Report
http://www.thedailyshow.com/
http://www.colbertnation.com/
If like The Daily Show and Colbert Report but you have to get to bed early because your boss is a stickler about being at work on time, these sites are for you.  All the best from the kings of late night comedy.
Biology of Technology
https://biologyoftechnology.com/
A great tech website/blog that looks at the brighter side of technology.  Personally, I don't consider this website a waste of time!
Hey, what good is the Internet if you can't do a little shameless self promotion?
Once you done with Farmville on Facebook and watching cats on YouTube, for those who want to see more data on this study, here's a link:
http://www.aomonline.org/aom.asp?ID=251&page_ID=224&pr_id=448