Rocket launches are awesome! The countdown, the blastoff, a sonic boom, followed by a fireball streaming into the sky igniting our sense of adventure. But that was so 20th century.
For SpaceX, it's all about the landing – specifically, the amazing vertical landing performed by the Falcon 9 rocket.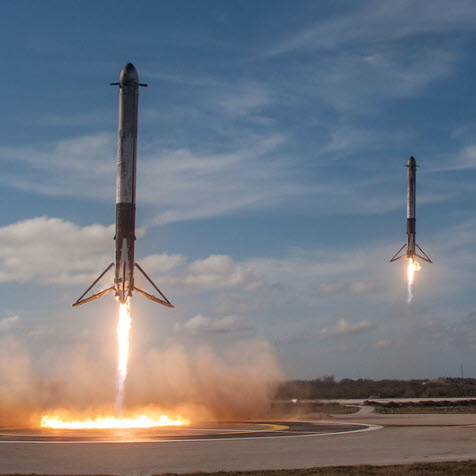 The SpaceX Crew Dragon launched spectacularly on 5/30/2020 at 3:22 ET powered by Falcon 9. Veteran NASA astronauts Bob Behnken and Doug Hurley manned the sleek, gumdrop-shaped capsule called Dragon Crew. This spacecraft designed for multiple treks to the International Space Station isn't the only piece of SpaceX technology that can be reused. Once the Falcon 9 completed the herculean task of hoisting the crew into orbit, it separates to start on the next leg of its journey – the vertical landing.
In the early days of NASA, after delivering the payload into space, the rocket was ejected and burned up in the atmosphere. That expensive equipment went up in smoke.
During the Space Shuttle program in the 1980s, solid rocket boosters parachuted to the ocean, were recovered, and sometimes reused. If this seems like a huge waste, that's because it is. It's like buying an expensive sports car, taking it for a few glorious joy rides, then abandoned it on the side of the road.
Elon Musk and the SpaceX team designed an efficient way to reuse the rocket drawing on classic science fiction for inspiration. Perhaps it was this 1950's era sci-fi "The Sky Calls".
Yesterday's science fiction is today's science. Here's the precision vertical landing of the Falcon 9 after giving the crew a lift into space.
It almost looks surreal. What's not surreal is the rocket can be used about 100 more times, with the heat shielding needing to be serviced about every 10 trips into space. This reusability is a huge money and resource saver.
The next time SpaceX powered by Falcon 9 launches, make sure to catch the landing.
Here's more vertical landing acrobatics performed by Falcon 9.