If you like dubstep and hate mosquitoes there's good news.
A National Institute of Health study says the Aedes aegypti (the yellow fever mosquito) loses the desire to bite and mate while listening to dubstep.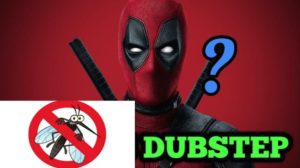 When subjected to "Scary Monsters And Nice Sprites" by Skrillex mosquitoes took a break and chilled.
Here's the Skrillex song that doubles as a mosquito repellent.
Dubstep is a genre of electronic dance music (EDM) heavy on instrumentals with sparse, syncopated rhythms and a powerful bass-line. When Deadpool faces the time-traveling warrior Cable he asks if dubstep is still a thing in the future. While the answer is a bit unclear, the merc-with-a-mouth is fond of "the dubstep" and featured in the Deadpool movies.
Here's a sample.
How Does Dubstep Stop the Little Blood Suckers?
The study suggests the extreme low and high frequencies that define the genre may scramble mosquito physiology suppressing the urge to bite and mate.
But sucking blood and "doing it" is a big part of the mosquito lifestyle during the 56-day lifespan for females and 10-day for males. Their entire reason for existence is to suck blood, mate, repeat.  Otherwise, their lives would be like mosquito hell.  By the way, if there is a mosquito hell then Skrillex will be the DJ.
If mosquitoes are making your backyard cookout a living hell, forget the toxic bug sprays. Crank-up some dubstep to clear the air. It may also clear out your friends as everyone's not a fan of bass-heavy EDM. But they'll leave free of mosquito bites.