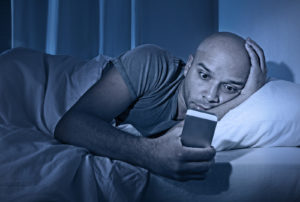 When throwing shade is deemed a bad thing in pop-culture, Apple is updating their products to throw shade for better sleep and happier days! In our previous post, we discussed how viewing your tablet has been linked to later nights, and sleepier days. Apple has a feature to help all you night-time iPad readers and phone screen watchers!  It's called Night Shift.  Can it really help you sleep better?
First, do iPhone/iPad screens really mess with your sleep?
YES. Blue light from the screen can have a negative impact on your ability to sleep
The blue light mimics the brightness of the sun causing your brain to stop producing melatonin, the hormone that cues your body when it is time to sleep.
For additional info, read our previous post HERE
What is Night Shift?
Night Shift is a feature on your iPhone and iPad that will show more red and yellow hues, and less blue hues when it is dark outside.
During the day, colors on your screen will revert back to the standard colors (including the blues!)
BONUS: the setting will be toggle-able and customize-able to fit your personal screen viewing needs!

This includes the standard sunrise/sunset setting
OR any schedule that you choose.
How do Night Shift settings help?
Warmer hues cause less strain on your eyes, making your night-time screen viewing significantly better for eye health.
The reduction of blue tones allows your brain's ability to produce malatonin to continue as normal.
With automatic settings – Night Shift will be, well, automatic! You may not notice the changes your screen is making, but WILL notice the difference in sleep quality.
It is great to see companies being considerate of their consumers' health. With up to 95% of Americans now owning some form of cellphone, updates like these will help people stay healthy while enjoying their favorite apps on their phones – regardless of the time of day!