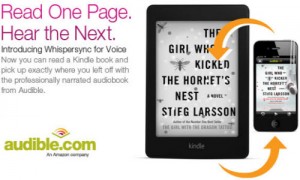 You enjoy reading, but like most of us in the modern world, it's hard to find the time.  Whispersync allows you to switch back and forth between the Kindle book and the Audible audiobook on your iPhone or Android device without ever losing your place.
Here's how it works:
Go to Audible.com and set up an account.
If you have an Amazon account you may already have an Audible account.
Download the professionally narrated audiobook from the My Library section of the app, and start listening.
Pause the professional narration when you're ready to switch to reading on your Kindle and pick up right where you left off.
Available on any Kindle E Ink Reader, Kindle tablet, or Kindle reading app.  Get the free Audible app for your iPhone or iPod Touch (from iTunes) or your Android device (from Google Play or the Amazon Appstore, and sign in using your Amazon credentials.
I've been using Whispersync on my iPhone.  I downloaded the free Audible app and free Kindle reader app.  Then I purchase a Kindle book with narration.  So far it's been working great.  I was waiting for an appointment so I pulled out my iPhone to read the latest book I downloaded.  Just I was getting to an exciting part it was time for my appointment.  Afterwards, I had to rush to the car to make my next meeting.  So I put on my headphone and brought up the Audible app.  When it started it ask if I wanted to sync with the Kindle reader.  I replied yes and narration picked-up where I had left off reading.  Cool!
Here's a video commercial about Whispersync.