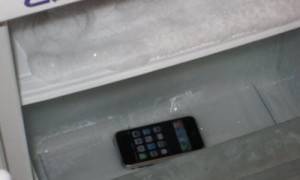 I put my iPhone in the freezer and it helped fix some issues.  Here's my iPhone freezer story.
My iPhone had been the perfect companion. I even found myself bragging about my Apple device like an annoying fanboy. But all good things come to an end. It started with WiFi problems  (the on-off switched was grayed out), apps would crash, and sometimes email would "spin" and never retrieve.
I thought my happy iPhone days were over until I found the iPhone freezer trick. Hard to believe this helped, but putting my iPhone in the freezer for about 30 minutes helped fixed some of the problems. Here are the cold, hard facts from my iPhone freezer experiences.
Here are the cold, hard facts from my iPhone freezer experience.
First, power down the iPhone
Put iPhone in a zip-lock bag
Put zip-lock in the freezer
Find something to do for about 30 minutes
Here's is suggestion – Talk to a neighbor (in person, because your phone's in the freezer)
Retrieve your iPhone
Power-up
FYI – the screen may be foggy from frost. It will go away.
After doing this I could connect to WiFi and my apps worked! I was amazed!
However, after about 20 – 30 minutes I lost the WiFi connection and could not reconnect (spinning wheel on WiFi screen). But the good news is, the freezer tricked seem to fix the crashing apps and email issues.
And now a warning – after rebooting my iPhone it started having the same problems, the most annoying being the crashing apps.  But after another 30 minutes in the deep freeze, my iPhone apps worked and I got another 30 minutes of WiFi.
After many hours reading iPhone support threads, the official solution is to get a new phone.  But the freezer trick can help if you don't have the time (or the cash) to go to the Apple store and talk to a kid at the genius bar (or get a new iPhone).
Have you tried freezing your iPhone?  What's your iPhone freezer story?