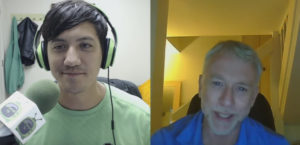 TechAdvocates Solutions was featured on GoTarryn TV. I really enjoyed being interviewed by Tarryn Hoff, also know as Tarryn the Traveling Trainer.
We talked about tech and fitness, two of my favorite topics. You can view our conversion done via Skype here:
Tarryn does a great job with these interviews talking with different people in many diverse areas.  His conversations create a sense of community.  And they are fun to watch.
Checkout Tarryn's video and podcast interviews at the following links:
https://www.youtube.com/GoTarryn/
If you are looking for great trainer, here's how to contact Tarryn:
https://www.facebook.com/GoTarryn/
https://www.instagram.com/gotarryn/