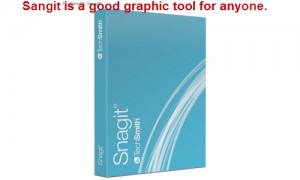 Snagit is a good graphic tool for anyone.  While it started out as a basic screen capture tool, it has evolved into much more.
Pictures and images are an essential way to bring a website/blog to life.  But getting an image file "web ready" can be tricky.  The most common mistake is bloated file size which can slow down your website and hurt your Google ranking.  Here's a good BOT article on "size matters" when it come to pictures for your website:
Size Matters for Pictures on a Website
Snagit provides a simple way to obtain and re-size image files for the web.  And it does a lot more.
Here are a few of the things you can do with the Snagit software.
Capture a selected region of a screen
Capture a window, scrolling window of a web page or a full screen shot
Keep weblinks active in the above options
Use its Snagit Editor for editing captures saved to a file
Snagit Editor provides a wide range of options.
Saving the capture as a PNG, BMP, JPEG or PDF file
Sending an image to Word, Excel, PowerPoint
Add enhancements such as arrows, cursors, lines, text
Adjust color depth
Add text, or view the frames of a video capture
Add custom edge effects like drop shadow or torn or faded edges
Manipulating the image through flip, mirror, shear, rotate, crop, and cut
You can download fully functional 30 day trial from TechSmith (Windows and Mac versions are available).  If you like Snagit, it's only $49.95!  And TechSmith provides great instructional videos.