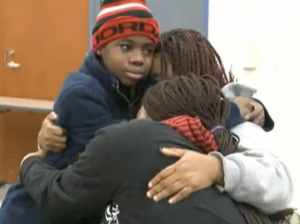 In a story that almost seems like a movie, the police find a 13-year-old boy behind a fake wall in his father's house four years after his mother reported him missing.  But what makes this story even more spectacular is how this tech savvy kid showed some clever tech skills to help the police with his rescue.
This young man, who has been identified as Gregory Jean, Jr. was being abused and held captive in a hidden room of a southern suburb house in Atlanta, Georgia.  According to police, this secret chamber was behind a false wall that had been "camouflaged with towels."
But how this smart young man engineered his own rescue is impressive.   The police report that the boy managed to install the magicJack app (call magicApp) on a smartphone to which he had access. Using that app, which allows free phone calls, he contacted a family member in Florida, saying where he was and that he was being beaten by his father. This family member, reportedly his sister, then told his mother.
At first the police did not find Gregory, Jr. because the father and step mother had hid him in a secret room above the garage, accessed by a false plywood wall at the back of a closet.
However, Gregory, Jr. kept his cool and used the phone he had configured to call his mother directly with directions to the the hidden room.  The police returned for a second visit as he was on the phone live with his mom, giving her instructions, when police finally located him.
The result is a tearful reunion with his mother and a story with a happy ending thanks to Gregory, Jr.'s smart use of technology.
Police have arrested the boy's father, 37-year-old Gregory Jean Sr., and stepmother, 42-year-old  Samantha Joy Davis, charging them with false imprisonment, cruelty to children and obstruction. The other three people arrested were juveniles that were helping cover-up the kidnapping.  The couple has been denied bond and are in jail.
For the father and stepmother, it's going to take a lot more than a "magic app" to get these two off the hook for this heinous crime.
For Gregory Jean, Jr., keep an eye on this tech savvy kid as he is surely going places.