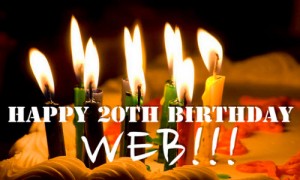 The World Wide Web turns 20 and it's come a long way, baby!
To commemorate CERN has restored world's first website. Here it is:
http://info.cern.ch/hypertext/WWW/TheProject.html
Yep, the Web has definitely come a long way.
CERN developed the HTTP protocol and browsers standards that form the foundation of the Web, which are still used today.  These standards have evolved but have kept the FREE spirit of the early Web.  They officially made it FREE on April 30, 2013.
Since CERN made the WWW available on a royalty-free basis, this set stage for the Web we have all come to know and love.  It makes one cringe to think about what would have happened if the greedy had got their hands on this vulnerable "baby" Web before it was set FREE for all the world to enjoy.
Happy Birthday WWW!