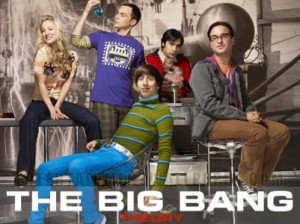 The geeks shall inherit prime-time TV.  Emmy-nominated sitcom The Big Bang Theory hits 20 million viewers rivaling ratings juggernaut Idol. That's no bazinga.
Even more impressive is that the nerd-centric show is in it's sixth season and it's ratings are still on the rise.  Most TV shows of this age are watching their ratings decay and "jumping the shark" to keep viewer-ship.  (Idol anyone?)
You don't have to be a rocket scientist to do the math.  With other "nerdy" shows like Glee on the air and self-proclamation nerds like Jon Stewart and Stephen Colbert on the top of their game, it's a golden age for geeks.  Even the 2012 presidential election felt the power of geekdom.  Nate Silver, who is sometimes described as a nerd, became all-the-rage after using math to accurately predict the landslide victory for President Obama.  Go math!
Speaking as a geek, all I can say is – may The Force be with us.
Watch The Big Bang Theory Thursday nights at 8PM on CBS.  Or you can catch the reruns in syndication just about anywhere (check your local listings).
Here's a clip from The Big Bang Theory to wet your appetite.