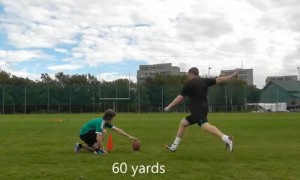 A YouTube video goes viral scoring a Norwegian kicker an NFL tryout.  The moral of the story – if you have a talent, practice, film it, then post it on YouTube.  You could get discovered.
The video features 27-year-old Havard Rugland from Norway performing awesome tricks and kicks, which includes nailing 60-yard field goals and a precision kick hitting a football that is in flight with another football.
Here's the amazing video appropriately names "Kickilious" with over 1.7 million views (and growing):
The video got Rugland noticed and was invited to the US to work with a kicking coach. He also got a tryout with the New York Jets.  It's rumored he has been ask back for a second Jets tryout, which is a really good sign.
A little online exposure can go a long way to making dreams come true.
Hey, if viral video discovery worked for Justin Bieber, it could work anyone.