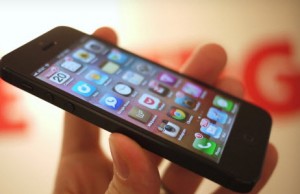 The iPhone 5 is here with a bigger screen, faster network (4G/LTE), and better battery life.  Hipsters are giddy as they wait in long lines outside Apple stores watching videos on their iPads.  But even if you're not a hipster, there's a lot to like about Apple's new flagship product.
Here's a list of what's new on Apple's new flagship product.
Bigger Display
The size of the display on the iPhone 5 grows to 4 inches (at an 1136 x 640 resolution), as opposed to the 3.5-inch screens on previous models.
Thinner and Lighter
The iPhone 5 weighs just 3.9 ounces compared to the iPhone 4S's 4.9 ounces. Coupled with a thinner case, many of the reviews say is feels like it will fly out of your hand. And while this is generally good news, it may not bode well for those who are chronic iPhone droppers.
Better Battery Life
One of the most amazing feats Apple pulled off in the thinner, lighter iPhone 5 is that the battery life is not only as good as the previous phone… it's actually better. Even when using LTE data!
Good Sounds
The sound on the new iPhone is crystal clear for both incoming audio on the earpiece or speaker.  And outgoing audio from the mic on the device is good, too.  Apple has included three microphones on the new device to pick up sound as well as help with noise reduction, and it seems to be working.
The speaker was especially loud and clear for calls and playing back audio.
Apple has included a new type of earbud with the iPhone 5 called EarPods.
The Camera is Stunning
The new camera on the iPhone 5 is absolutely stunning: an 8 megapixel shooter on back and a 1.2 megapixel version around front, and sports a compass, proximity sensor, ambient light sensor, gyroscope, and accelerometer.
Faster Processor
Inside the iPhone 5 there's a new dual-core A6 CPU running at a reported 1GHz, 1GB of RAM, between 16GB and 64GB of storage.
4G/LTE Networks
The iPhone can access the fact 4G/LTE networks getting close to Wi-Fi speeds on a cellar connection.
New iOS 6
The iPhone 5 comes with iOS 6, the latest and greatest iPhone operating system.  iOS 6 has lots of improvements including some stylistic updates for a fresh look-and-feel.
A Few Down Sides
New Apple Maps, No more Google Maps
Apple previously relied on Google's mapping prowess to power this application on the phone. However, that relationship has ended as the two tech juggernaut's are now more more competitive than cooperative.  Since Google has been in the maps game a lot longer, Apple's new product just doesn't have the maturity and data as Google maps.  Iin time, Apple should catch-up.  But but for the iPhone 5, the maps may be a bit of a step backwards.
New Power Connection
The new power connector is called the Lightning port and is smaller than the now-old 30-pin dock connector. The Lightning port does not bring any new functionality. The use of the smaller plug seems to be almost entirely about downsizing components for the smaller iPhone 5 footprint.  This new connector is sure to annoy some customers in the short term since it requires getting new connectors and peripherals.
Even with a few downsides, the iPhone 5 is the best iPhone ever made.  Between the new design, blazing fast 4G/LTE network , and better battery life, there's a lot to like, even if you're not a hipster.