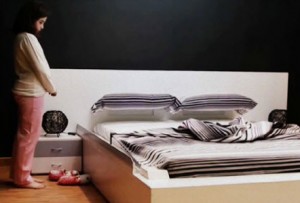 The self-making smart bed is here!  However, is this technology you can actually use, or is it just a clever way to lure someone to your bedroom (wink-wink)?
Here's how it works.  The self-tidying bed releases a small mechanical arm from a hidden area on the side and its two rollers will pull the cover to the head of the bed.  The pillows are straightened by cords attached to the pillowcases as they are lifted during the bed making process. When the cover is straight, the pillows fall back into place.
So the you don't have to waste 60 seconds a day making your bed.  And it's a great conversation piece (once again, wink-wink).
View this kinda-cool and yet kinda-creepy video demo of this bed making itself.