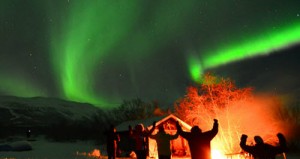 This hypnotic and stunning video of the Aurora Borealis was created over the course of three years. The video is long in terms of "Internet" time (13 minutes). But it's worth a few minutes of your time to stop and be amazed at one of the Earth's most breathtaking natural phenomena.
It reminds us that the world (and our life) is full of wonder and awe if we just take the time to stop and enjoy it.
This video was shot in Abisko National Park, Sweden and created by Lights Over Lapland.

Lights Over Lapland the Aurora Borealis Experience from Lights Over Lapland on Vimeo.