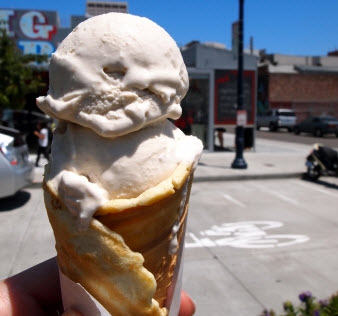 Now this is cool technology – it uses liquid nitrogen to make ice cream.  Using a machine called Kelvin, Smitten's ice cream in San Francisco makes each scoop to order. It uses sophisticated software and super-cool liquid nitrogen to transform pure and fresh ingredients into an awesome tasting ice cream. And since it's made fresh on-the-spot, no stabilizers, emulsifiers or gums are needed.
Smitten owner Robyn Sue Goldman describes the patented Kelvin machine and how it makes this unique ice cream in the following video.
Visitors say this ice cream is the smoothest tasting ice cream they have ever had. It's the deliciousness of homemade ice cream made in a minute.
"It's flat out luxurious," someone said licking on an ice cream made with brown sugar, cinnamon, and short bread cookies sitting on top of a handmade cone.
YUM!
To learn more click:   http://smittenicecream.com/
The Kelvin machine at Smitten ice cream was featured ZDNet that includes a detailed video on how the process works (for the techie):
http://www.zdnet.com/blog/btl/liquid-nitrogen-changes-future-of-ice-cream/66214