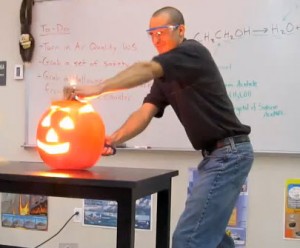 The exploding pumpkin is just one of the cool chemistry experiments from Mr. Bergmann & Ms. Ryan.  They remind us of the importance of good teachers.  Go Teachers!
Mr. Bergmann & Ms. Ryan perform the exploding pumpkin trick and many other awesome science demos in chemistry class at Kinard Middle School in Fort Collins, CO.
This type of creative teaching rings a bell to the importance of good teachers.  They are the key to improving education.
So COOL!
Teachers are not the problem. They are the solution!  Let's not cut funding for education and put our teachers on trial.
It's a simple math equation:
More Pay for Teachers  +PLUS+  Less Students per Class  =EQUALS=  Better Education for All
Big corporations spend millions on expensive accountants to avoid paying taxes.  But taxes fund our education system.  Yet they sure don't mind paying huge CEO salaries and consider that a good investment.
So, are huge CEO salaries a better investment than teachers' salaries?
For more cool science, visit:
http://www.youtube.com/user/cbergmann12
We want to hear from you.  Contact Us with your questions and comments.