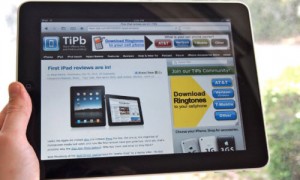 The iPad is changing the way we compute. The mobile market is the largest growing demographic on the Web. But if your website is not iPad compatible, you could be left behind.
With over 25 million sold and still growing, if all the iPad owners of the world came together they could and make their own country. And while there are some worthy competitors, experts agree that nothing has touched the iPad in terms of simplicity, power, and popularity.
The revolutionary impact of Apple's iPad is being compared to television. Here's a quote from Darryl Zanuck of 20th Century Fox from 1946.
Television won't be able to hold on to any market it captures after the first six months. People will soon get tired of staring at a plywood box every night
Don't be to the iPad and mobile computing what Darryl Zanuck was to TV. Here are few considerations for a website that taps into mobile computing and the iPad movement.
To Flash or Not to Flash
Flash is a proprietary technology from Adobe primarily used to add animation and video to websites. The problem with Flash is that is not supported on many mobile environments. There has always been tension between Flash and the Web. Artistic types like it. But because of security issues, incompatibility with search engines, and being not compatible with many mobile platforms, Flash has fallen out of favor with much of the IT and Web community.
The bottom line.
You should not build your website on Flash or use Flash for your navigation. If you use Flash at all, use it sparingly. I prefer using JavaScript; it is an open system that works well on mobile devices. And if you use video upload it to YouTube and put the link on your website. Then when your website is viewed from an iPhone/iTouch/iPad it will launch the YouTube app and the user can view the video.
Content is King
On the Web content is king. Of course you want a nice looking website, but on the Internet it is more important what you say that just having a pretty frame. And in today's real-time online world you need to be able to update your website quickly without a lot of drama. Your website should be built on an open source platform where you post updates without having to go your web designer. Then you can save your webmaster for the big "techie" stuff (ecommerce, RSS feeds, social network plugins, etc…).
The bottom line.
If you need to call your web person every time you want to make even a tiny change to your website then it's time to renovate your website to a content control system. My favorite is WordPress because of its ease of use, plays well with social media, and works well on mobile browsers.
Need Help?
It can be tricky to renovate your website for the mobile market.  Let TechAdvocate Solutions help you with you develop an online strategy that's right for you. Click here, fill-out the VERY short form, and someone will be contacting you!
This Apple's classic commercial from 1984 still holds true today in that the iPad breaks the status quo and takes technology to the next level.
http://www.youtube.com/watch?v=OYecfV3ubP8&NR=1