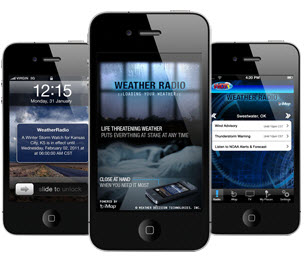 The iMap Weather Radio has an App for your Smartphone or tablet that alerts you of life-threatening weather information.  The application "wakes up" your mobile device when danger approaches.
It uses the phone's location to determine if there are weather alerts in your area.  It is listed for just $9.99 and is one of those "must-have" apps, especially during storm season.
Here's the iTunes link:
http://itunes.apple.com/us/app/weather-radio/id314841443
The iMapWeather Radio app features timely video, voice forecasts, verbal, and/or textual severe weather early warnings including the following:
Alerts
Receive a "wake up call" voice from the National Weather Service during severe weather events
Weather maps
Interactive local radar maps showing your location relative to emergency warnings.
Multiple locations
Receive precise notifications for your location and up to four other locations
Video Programming
Check in with local TV severe weather programming with real-time streaming video from your local television stations (where available).
For more info see the following video on the iMapWeather Radio app.