You can go green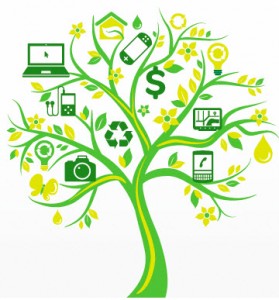 by recycling your old devices and get some "green" in return at gazelle.com.  Gazelle pays cash for old cell phones, laptops, digital cameras, and other stuff.
Yesterday's hot gadget becomes today's pile of junk cluttering-up your closet or basement.  Here's how to turn that trash into some monetary treasure:
Go to gazelle.com and setup an account (easy account setup).
Answer a few quick questions like does the device powers on, and if the battery works.
Gazelle calculates an offer and if you accept, they will email you a shipping label.
I've used gazelle.com and it was a very good experience. After sending in an old phone and laptop, I got several emails from Gazelle keeping me posted on the progress of my order.  About a week later a check arrived just as promised. So Gazelle does what it says, and it doesn't get much better than that.
Also, Gazelle can setup a website for schools and other groups to organize a gadget drive to raise money.  Or you can use Gazelle to turn gadgets into donations for your favorite charity.  Click here for details.
If you are looking for an easy, non-eBay way to get cash for old electronics, then give gazelle.com a try.