I'm not sure I feel about a high-tech toilet that's smarter than me!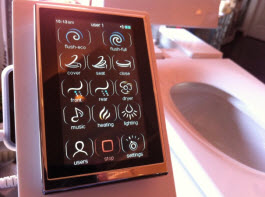 This high-tech toilet has touchpad controls for seat temperature; a foot warmer that blasts warm air; the position, water pressure, and temperature of the extending bidet; and a drier with adjustable intensity and temperature.  And it has ports for your iPod/iPhone/iPad.
So you only have to worry about 1 (or 2) things while sitting on this throne.
Here's a commercial that tries to make this commode seem…sexy!
Wondering if there's a market for a hi-tech bidet!