Having fun online is becoming the world's favorite pastime.   So why not use the Web to turn your online enjoyable into profit.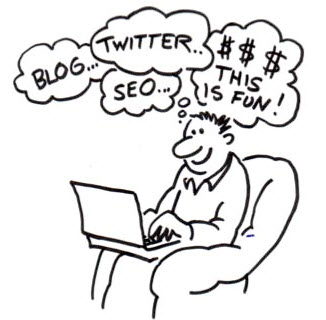 http://www.mkig.com/default.aspx
My Kid is Gifted brings "kids-say-the-darnest-things" to an easy-to-read blog.  If you like kids, you'll love this website.  And who doesn't live kids, especially when you can laugh at what they say without having to clean-up after them.
http://omgcupid.tumblr.com/
OMG Cupid shows real online profiles of the nutty persuasion.  Sure online dating is now mainstream and everybody's doing it.  But everybody looking for online love is NOT sane!  In fact, there's lot of crazy out there.  If I've every feeling bad about myself I go to this site and I start feeling better.
http://awkwardfamilyphotos.com/
The Awkward Family Photos website started with a few friends sharing family pictures that make you say "Oh No".  It has become an Internet sensation with over a million of hits a day and an online store with "awkward family" merchandise.  Nothing awkward about that!
http://someoneelsewillputitback.com/
Someone Else Will Put it Back is a site of actual pictures of stuff people have put have put back on supermarket shelves in the craziest places.  And it offers a comical explanation of the thought process behind it.  This website reinforces the premise that fact is funny than fiction.
http://www.mikealvear.com/
Mike Alvear has made a career providing relationship and intimacy advice.  He starred in the BBC hit show The Sex Inspectors.  And he's turned his passion for getting you laid to a website with an advice blog and ebooks on how to meet guys.
https://biologyoftechnology.com/
Shameless self-promotion of my BOT blog (Biology of Technology blog) doing my best to make geek more chic.
Here are more funny websites.  Not sure of their revenue model, but they offer some really good online fun time.
http://asianssleepinginthelibrary.tumblr.com/
Self-explanatory – is exactly what it says.
http://www.subourbonwife.com/
Not a typo – The bourbon in "subourbon" is the drink.
http://www.todaysbigthing.com/
For your video-of-the-day fix
http://zmonette.wordpress.com/
Funny blog of "Top 10" movie lists.
http://www.travelwidows.com/
Where to go when he's gone.