The Bottoms Up Draft Beer Dispenser is a great example of technology gone wild and solving a problem that doesn't exist.  But it sure looks fun!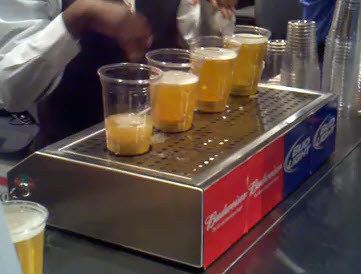 It pours beer from the bottom of the glass.  For those who graduated from college with a major in beer pouring, you could be in trouble.
Get ready to be dazzled – here's a video demonstrating this amazing device.

Some ways bottoms-up beer can make the world a better place:
Those who make those girls/boys gone wild videos, they can get their unwitting stars hammered and unclothed even faster.
Frat boys of all ages worried that pouring their favorite beverage will give them carpal tunnel, you can relax.
Finally, a gift for the guy who really does have everything.
My suggestion for the name of this device is the Beer Bidet, but turns out that name is taken.  (Google "Beer Bidet" to learn the urban definition.  Who knew!)
How does it work?  What magic allows beer to defy gravity?  Actually, the secret is in the cup.  The bottom of the cup has a magnetic valve that lets the beer in.  When it's full and the pump shuts off, the pressure of the beer pushing down on the valve closes it.
Here's the kicker – the round valve at the bottom of the cup is disguised as an advertisement for, you guessed it, beer.  After chugging a brew when you very open to suggestion, you find yourself starring at an ad for beer.  Talk about marketing gone wild!
Click here for more on the Bottoms Up Draft Beer Dispensing System.