You can use Facebook and Twitter to drive traffic to your website.  More traffic can translate into more business.  And more business means more money.  And that's good, right!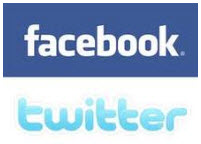 As part of your service from Techadvocate Solutions, a "Share/Save" feature has been installed on your WordPress website/blog.  You will notice the "Share/Save" icon as the end of each post.  This allows others to share to social networking sites (Facebook and Twitter) and other blogs.
For example, to share this post on Facebook simply click Share/Save icon, select Facebook, and post to your wall.  (You will be asked to login Facebook if you are not already.)  That's it!
Fun fact, there are over 500 million people on Facebook.  By 2012 there could be over 1 BILLION Facebook users.  Don't miss out on this marketing opportunity.