In today's market there are a lot of good deals on refurbished machines.  Here are two good refurb deals – one PC and one Mac.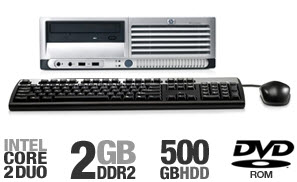 HP Compaq DC7700 Desktop Computer – Intel Core 2 Duo 1.86GHz, 2GB DDR2, 500GB HDD, Combo, Windows XP Pro 32-bit (Off-Lease)
List Price:             $329.99
Instant Savings:  -$80.02
Price:                     $249.97
Click Here to Order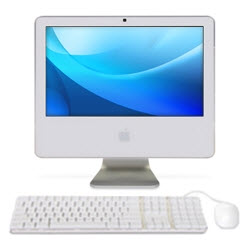 Apple iMac MA590LL All-in-One Desktop Mac – Intel Core 2 Duo 2GHz, 1GB DDR2, 160GB HDD, DVDRW, 17″ TFT, Mac OS X 10.4 Tiger (Off-Lease)
List Price:     $1,199.99
Instant Savings:  -$700.00
Price:              $499.99
Click  Here to Order
Disclaimer:
The term "Off-Lease" refers to a product that has been leased to, and used by, a customer, then returned to the leasing agent at the end of the lease period (typically 2 to 3 years). The leasing agent, or their third-party partner, inspects, repairs (if necessary), cleans, re-packages, and then offers the product for sale as "Off-Lease".  Some items will show signs of use, including minor scratches, slight wear on keyboards, etc. Purchasing off lease product saves you money, creates less waste and saves the resources that would be required to produce new products. If saving money and resources is important to you and you are not concerned with minor wear you should consider purchasing off-lease.  Off lease products carry limited warranties and restricted return policies.