If your laptop is outdated or trying to get a jump on Holiday shopping, here is a great deal.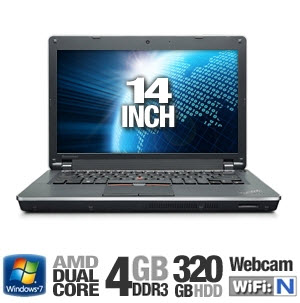 Lenovo ThinkPad Edge 0199-23U Laptop Computer – AMD Turion II Dual-Core P520 2.30GHz, 4GB DDR3, 320GB HDD, DVDRW, 14″ Display, HDMI, Windows 7 Home Premium 64-bit, Black
List Price:                  $799.99
Instant Savings:     $300.00
Price:                         $499.99
Click on the following link to take advantage of this great deal:
http://click.linksynergy.com/fs-bin/click?id=hTw*4HhrSSA&subid=0&offerid=102327.1&type=10&tmpid=3883&RD_PARM1=http%3A%2F%2Fwww.tigerdirect.com%2Fapplications%2FSearchTools%2Fitem-details.asp%3FEdpNo%3D6620861

TechAdvocate Solutions has a PC setup service at a very reasonable price.
Setup includes:
* Downloading all the latest security patches
* MS Office Professional 2003 with updates
* AVG antivirus
* Firefox browser
* Adobe Reader
* Latest versions of Flash and Java
* Most up-to-date version of iTunes
Just go to the following website and fill out the very short form:
http://www.techadvocate-solutions.com/contactus.php
We will email you instructions on where to ship you new PC.