Are you drowning in SPAM? Is your inbox exploding with ads for Viagra? Is the worldwide epidemic of E.D. so bad that we need daily email reminders of this plaque? I think not.
Spam has become an inevitability for the online.  Not only is it annoying and often distasteful, it is a carrier of nasty viruses and malware that can render your system impotent. (Sorry, can't resist the Viagra pun.)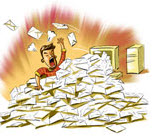 The bad news – unless you completely disconnect from the Internet spam is pretty much unavoidable.
The good news – there are things you can do to reduce the amount of spam you receive.
Here are a few tips to protect bring down your spam noise level.
Open a separate email account.
Setup a separate email account with a free email service (Hotmail, Yahoo, and Gmail are a few) to use for mailing lists, shop online, or join social networking sites. If this account gets too filled with spam, you can simply delete it and create a new one. Do not use this account for personal, business, or any critical emails. And do not connect this email to your mobile device.
Watch out for default options and checkboxes.
When you sign up or register online for some services or products, you might be presented with check boxes that offer to send you email announcements or special offers. These options are usually pre-selected by default, so if you aren't interested in receiving these kinds of notices, remember to uncheck them before you continue.
Beware of untrustworthy applications on social networking sites.
Sorry Farmville, but it should really be called Spamville. Many social networking sites offer applications you can use to take quizzes, play games, or send your friends virtual "gifts." But you should be aware that these applications also have access to your (and your friends') personal information. Some malicious programs will sell this information to mailing lists or advertisers, while others will go so far as to steal your login information, sign in to your account, and then spam your friends. With this in mind, be careful about downloading new applications to your account, and remove or disable any applications you don't feel comfortable sharing your information with.
Check privacy policies on web sites and mailing lists.
Trustworthy companies and listservs will have a link to their privacy policy on their websites. Read through the policy to find out exactly what the web or listserv administrators plan to do with your information before you give them your email address.
A brief history of spam, spam, spam
Spam has been around since the dawn of the Internet age. The term "spam" came into use in the 1980s. Contrary to popular belief, electronic spam is not named (directly) after the canned meat product. Rather, it's a reference to a popular sketch by the British comedy group Monty Python's Flying Circus. In the sketch, a group of Vikings in a restaurant loudly chant "Spam, Spam, Spam" until all other conversations are drowned out—a humorous comparison to the way electronic trash can quickly drown your inbox.
Contact TechAdvocate Solutions as we have solutions to help you avoid the onslaught of SPAM.
Click here, fill-out the VERY short form, and someone will be contacting you!