Now that texting and driving is illegal in Georgia we can all take a sign of relieve that the roads will be a utopia of safety.  BUT WAIT!   Here's a list of stupid things you can still legally do while driving.
Eating
Reading a huge foldout paper map
Smoking
Fold your laundry
Apply Makeup
Load your Gun
Carve a wood flute
Shave your legs
And the list goes on!
OH MY!
Of course anyone with an IQ above a squirrel knows that texting and driving is a really bad idea.  But so is eating a big juicy hamburger, putting on mascara, or doing both at the same time.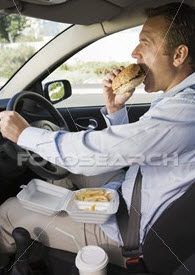 It turns out the "Failure to Control" laws that have been on the books for a long time could cover texting and driving as well as other stupid stuff.  And studies from places with texting bans show no significant decrease in traffic accidents.  WHAT!
So did we really need to spend millions of tax payer dollars to pass this new anti-texting-while-driving law?
Were politicians just pandering to get more votes instead of dealing with the more important issues of our times?
I think even your average squirrel knows the answer to these questions.