Every time there is a glitch in Facebook privacy people complain their confidentiality has been violated.  So I have solved the Facebook privacy issue.  Are you ready?  Here it is:
If you want to keep something private then don't put it on Facebook.  Period!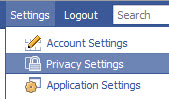 Here's the thing about social networks – they're social.  Facebook is not the place to have an online chat with your secret lover.  If you want to keep your affair private then do what people use to do and have a "third rate romance low rent rendezvous" at a seedy motel.  And with foreclosures at an all time high there are plenty of abandoned buildings and empty luxury condos to carry on your shenanigans.
And if you are going to do something sleazy and hypocritical then you're only going to make things worse by trying to justify it on Facebook.  Let's say you're an anti-Gay activists who uses your credentials as a doctor to help push homophobic policy.  But you secretly have a thing for rent boys giving you massages while in the nude performing a move called the "long stroke".  And say your name is Dr. George Rekers, co-founder of the Family Research Council which under the guise of religion leads the charge to discriminate against Gay people.  When you get caught with your hand in the "rent boy" cookie jar then don't post psycho-babble on your Facebook page that makes you seem certifiable insane.
Click here to read George Rekers's Facebook post in response to getting caught spending 10 days on a European vacation with a male hooker.  And I challenge you to try and read it with a straight face.  (Sorry, it had to be said.)
By the way, if you are a closet homosexual like George Rekers then you should not parade it all over Europe and the Miami airport.  Why not do your "gay business" in airport bathrooms.  Well, maybe that's not such a good idea, either.
So let's keep privacy private and Facebook social.  Complaining about privacy problems on a social networking site is like going to the beach and gripping about the sun and the sand.