Have you got old gadgets?  Need cash?  Then try
gazelle.com!
So you can go green by having your devices recycled and get some green in return.  Everybody wins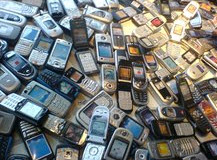 Gazelle pays cash for used electronics such as cell phones, laptops, digital cameras, and other stuff (except printers and Fax machines).   Here's how it works:
– Log on to the site (setting up an account is easy)
– Answer a few quick questions like does the device powers on, and if the battery works.
– Gazelle calculates an offer and if you accept, they will email you a shipping label.
I got offered $119 for a couple of old devices lying in the back of a closet.  We'll see what happens as I send this off this week.
Also, Gazelle can setup a website for schools and other groups to organize a gadget drive to raise money.  Or you can use Gazelle to turn gadgets into donations for your favorite charity.
Granted, if you are well versed in eBay you may be able to get a few more bucks for your electro-junk.  But let's face it, eBay is not for everyone and as best I can tell, Gazelle makes the trade-in process relatively painless.
So start 2010 by recycling your old stuff and making a few dollars in the process.