It's good to see that the e-book industry is doing what the e-music industry learned the hard way – than in the digital age you gottta "give love to get love."  Well, this is probably a timeless universal truth, but in an Internet connected world it's truer than ever.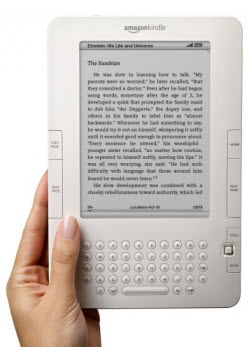 Over half of the e-books on the Kindle (Amazon.com's e-reader) best seller list are available at no charge.  This is creating a whole new breed of authors who can build a fan base by giving away e-books.  Once the reader is hooked, then the other books by these e-writers are available for a fee (usually $9.99 per download).  Drug dealers have been using this "the-first-one-is-free" tactic forever.  If reading is your "heroin" then e-books could be your quick fix.  By the way, if you are a reading junkie, then I say "read on."  There are worse things you could be addicted to.
This is refreshing change from the early days of Napster when the record companies were prosecuting fans for downloading and sharing music.  This was a mixed message from that dark page in Internet history that said, "If you like a song and you share it with your friends then we will sue you."
One exec in the publishing industry said it best concerning free downloads,
"I guess my attitude right now is that I can be afraid of what's coming or I can try and aggressively embrace it in some form."
This goes to the core of the new marketing paradigm in the digital world whether it is music, software, books, or porn.   (Once again, porn dealers were ahead of the curve in getting you hooked with free stuff.)
Giving stuff away will probably make the head explode of some the stuffed-shirt businessman entranced in their "greed is good" business model.  But to those Mr. Potters' who can't see the Jedi ways of "give-to-get" then you should just get out of the way.
While I do not have an e-reader, I confess that I am dripping with Kindle-envy.  If you are shopping for an e-reader here's a link to Wikipedia with a good comparison.
http://en.wikipedia.org/wiki/List_of_e-book_readers
If you have one sitting on a shelf gathering dust then you can give it to me; I will love you for it.  See, give-love-to-get-love does work.