Your Facebook pictures and videos you thought that only your FB friends could see might be open to more people with the new FB privacy settings.  A LOT MORE PEOPLE!
Recently all FB users upon logging in were re-directed to the new privacy screen.  Most just accepted the defaults that were presented which looked something like this: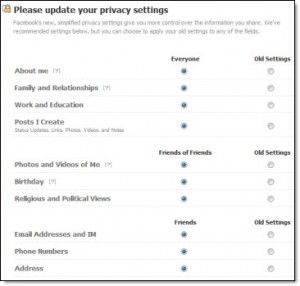 But Now the Warning You Were NOT Told.
If your privacy setting were such that you only share with friends, accepting these setting opens all your photos and videos to friends AND their friends.  THIS WAS NOT THE OLD DEFAULT.  What this means it that your friends AND all of their friends can now see your photos and videos EVEN IF THEY ARE NOT YOUR FRIEND.
It's like the movie "Death Becomes Her" when Meryl Steep's character drinks the magic youth potion.   After gulping it down she is THEN told, "And now a warning".  She promptly replies, "NOW, a warning!"  Except FB didn't even give you a warning.
Nightmare Scenario for the new default privacy
Suppose you had your FB profile set to only share with your friends.  So you post pictures from Mardi Gras of you on Bourbon St scantily clad making-out with someone whose name to this day you can't remember.  Before the new privacy settings only you and your FB friends got a kick about this picture and probably wrote a lot of catty comments.  Now all of their friends are getting a kick out your "gone wild" picture, too (along with the catty comments).  THINK ABOUT IT!
Here's The Fix
Here's how to change your privacy setting so that only your friends can see your photos and videos.
Click Settings -> Privacy Settings: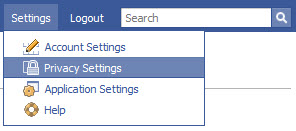 Click Profile Information
Check the setting for Photos and Videos of Me.  The new default is set for "Friends of Friends", but THIS WAS NOT THE OLD DEFAULT.
You can change you setting back so that photos and videos can be seen by just your friends.  While you're there you should make sure your other privacy settings are to your liking and posting habits on FB.
FB CEO Mark Zuckerberg Got Caught with His FB Britches Down
Don't feel bad if you didn't know about this hole in the new FB privacy settings.  Mark Zuckerberg, the young whiz kid who started Facebook, had a red-faced moment when he changed his FB profiles settings to the defaults for the new privacy settings.
Here's a clip from http://www.newsfactor.com/ about what happened.
Kashmir Hill, a blogger for True/Slant, first reported Zuckerberg's new exposure, noting, "Either Mark Zuckerberg got a whole lot less private or Facebook's CEO doesn't understand the company's new privacy settings." Under the new privacy regime, user profiles are exposed to the web unless users are proactive about limiting access.
Hill reported that while Zuckerberg has in the past offered very limited access to his Facebook information, his profile is now "uber-public." Hill reported: "I can see his wall, his photo albums, and his events calendar. Zuckerberg recently became a fan of Taylor Swift, uploaded graphic photos of The Great Goat Roast of 2009 three months ago, and plans to attend the Facebook holiday party on Friday night. I can even tell you where it's going to be held."
This is good time to be reminded of the one of the golden rules on the new online universe.  If you don't want everyone to know what you are doing then don't post it on Facebook or Twitter! You know, those status postings are optional.  Yeah, really.  For example, suppose I have seen the Star Trek movie 14 times.  (Did I just admit that?)  If I don't want my Facebook friends to kid me about being huge geek, then there is I should not post it.
And NEVER post pictures from Mardi Gras.  Nothing good can come if it!
Click here for more on how not to loose face on Facebook!