Everyone has at least one geek in their life.  You know – the one you call when your PC does something weird.  But what do you do to stop the guilt when you pick-up the phone to call your nerd buddy for tech support the next time you have a PC crash.  Especially since you haven't spoke to him or her since the last time your PC needed some tech TLC.
Here's a solution to your dilemma – put your geek on your Holiday gift list.


But what do you get a geek for Christmas without making him feel like you got him something from the island of misfit toys?
First, here are few things NOT to get your techie:
The Star Trek DVD – already has it.
A blind date – unless you want to loose a friend
Rush CDs – not talking about Rush Limbaugh.  In fact, no CDs (geeks download)
Anything to do with Twilight – not considered scifi.
Here are some off-the-wall ideas for your off-the-wall geek that will earn you some guilt-free tech support.
Wi-Fi T-Shirt
Geeks love t-shirts, especially ones with the Green Lantern emblem or the Greatest American Hero symbol (or any t-shirt Sheldon wears on "The Big Bang Theory").  But here is a t-shirt that actually lights up when it gets close to a Wi-Fi signal.  And while this shirt will guarantee the wearer will not be able to find a date, they will always be able to find an Internet connection.
http://www.thinkgeek.com/tshirts-apparel/interactive/991e/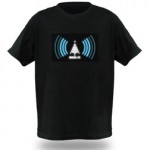 If the Wi-Fi t-shirt is too high-tech, here's a t-shirt to for the "alpha" or "alpha-wanna-be" in the nerd heard.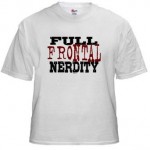 Keyboard Cuff-links
Even geeks need to dress-up, and not just for the midnight showing of Rocky Horror or the latest release of a Harry Potter novel.  These keyboard cuff-links can help get your geeky friend away from the keyboard to a black tie event without having keyboard withdrawal.
http://www.uncommongoods.com/item/item.jsp?source=family&itemId=15136


Floating Picture Frame
Okay, I gotta admit, this is kinda cool.  Insert four pictures into the 2.5″ x 3.5″ frame windows, plug in the included base, and place the floatable frame over the base. The frame is pulled right out of your hand and suspended in mid air, and then begins to slowly rotate!  This allows your geek to put his favorite pics of Spock, Einstein, Yoda, and mom all in one cool floating frame and sure to make him the talk of the system admins.
http://www.kleargear.com/1907.html


Here are a few websites with geek gift ideas for holidays, birthdays, Dragon*Con, and other important days on the nerd calendar.
http://www.thinkgeek.com/
http://www.x-tremegeek.com/
http://www.kleargear.com/gifts.html