Traveling for Holidays?  Want free Wi-Fi?  Google, Yahoo, eBay, and Microsoft are all getting into the Holiday spirit by offering free Wi-Fi to Holiday travelers.  Here are the details.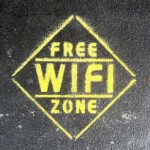 Google will offer free Wi-Fi from Nov. 16, 2009 to Jan. 15, 2010 on Virgin American flights and in the 47 airports listed in this link.
http://www.freeholidaywifi.com/
EBay will provide free Wi-Fi on some Delta planes during the week of Thanksgiving.   Check with Delta to see if your flight is on the freebie list.  Users will be taken first to eBay's holiday page, but they will be free to roam from there.
Since September, Microsoft has given away Wi-Fi access at some hotels and airports, encouraging users to make a query on the company's new search engine, Bing.
Starting Nov. 9, 2009, Yahoo is giving away Wi-Fi access in Times Square in New York.
There is much speculation as to the real reason why companies are giving you this Holiday gift.  Perhaps it is because we have all been good boys and girls.  Or perhaps they are using this as a chance to test Wi-Fi services they plan to offer in the future .   Don't mean to be Scrooge, and I'm not doubting that you've been good this year, but my money is that this a beta test wrapped in a Christmas bow.
If you do use one of these free Wi-Fi giveaways, make sure your anti-virus programs is up-to-date!