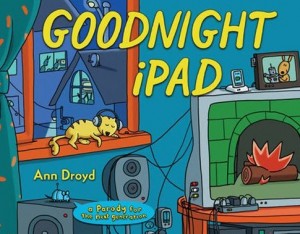 Goodnight iPad is an adult bedtime book that reminds us to unplug, get some sleep, and our gadgets will be fully charged and ready in the morning.  Based on the children's classic "Goodnight Moon" by Margaret Wise Brown, this parody brings a smile without clever Tweets or Facebook status updates.
It reminds us to step away from the Smartphone and go to bed.  Facebook will still be there the next day and your Tweeter follower will survive the night without your 140 characters of wisdom.
"Goodnight iPad" is a great gift selection for your geek friend if you are trying to earn points.  Everyone has at least one geek in their life.  You know – the one you call when your PC does something weird.  A Holiday gift is a great way to offset the guilt for calling your nerd buddy for tech support the next time you have a PC crash.  Especially since you haven't spoke to him or her since the last time your PC needed some tech TLC.  So plan ahead and get "Goodnight iPad" for your geek.
Or, and if you really want to get grease the geek wheel, get them an actual iPad2.  You will have tech support for life!
Click here to order "Goodnight iPad":
And of course, it's available for download in ebook format and on YouTube.  Ironic!