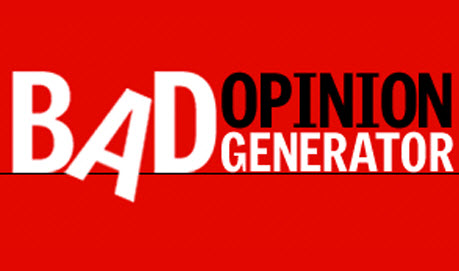 You can't believe everything you read online or everything you're told.  The Bad Opinion generator by the "THE WEEK" is a great collection of some of history's clueless predictions.  These epic fails remind us in an age of media overload you're better off thinking for yourself.
For example:
"There is no doubt."
—Gen. Tommy Franks on the presence of weapons of mass destruction in Iraq, 2003
Remember all those people who told us there were weapons of mass destruction in Iraq?  They're BACK…just wearing different faces.
Click Here for the Bad Opinion Generator by "THE WEEK" website:
http://theweek.com/article/index/218150/bad-opinion-generator
Here are a few more bad predictions.
"By the year 1982, the graduated income tax will have practically abolished major differences in wealth."
—Irwin Edman, professor of Philosophy, Columbia University, 1932
Well Irwin, I guess we proved you wrong.  The economy may be bad, but the rich are doing great!
"Hey, we don't need you. You haven't got through college yet."
—Hewlett Packard executives to Steve Jobs and Steve Wozniak, who would go on to co-found Apple, when they tried to interest HP in their first personal computer, 1970s
Still think you need to go into huge debt for that college degree?