What are you looking for on the Web?  It tells a lot about who we as a culture.
It is the time of year when the big search engines release the top searches for 2010.  The first out the gate is Yahoo.  Google (the big kid on the search engine block) will release their top searches for the year later in December (for a more accurate tally).
Here are top 10 searches for 2010 according to Yahoo:
10. Britney Spears
9. American Idol
8. Justin Bieber
7. Megan Fox
6. Apple's iPhone
5. Lady Gaga
4. Kim Kardashian  (REALLY!)
3. Miley Cyrus
2. World Cup
1. BP oil spill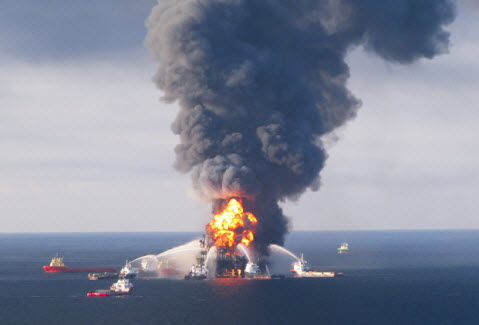 The BP oil spill was one of the top searches in 2010, according to Yahoo and AOL.  (Credit: U.S. Coast Guard)
Here are some other top searches for the year (according to Yahoo):
Top Mobile Search:  NFL
BP oil spill fell to 10th place in the mobile-search list.
Most Searched-for Sporting Event:  The World Cup
More People Asked:  "how to tie a tie?"
More people are trying to get jobs, so they need to tie a double Windsor.
Topping the list of "obsessions":  Apple iPhone 4
Beating out Lindsay Lohan and the iPad.
It will be interesting to see what Google says we were looking for in 2010.  Stay tuned…