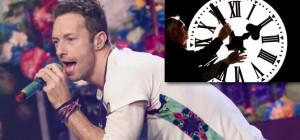 Clocks move forward for daylight saving time.
Clocks is a hit song by Coldplay, written by front-man Chris Martin.
But there is a deeper connection.
As we gain an hour of sleep and lose daylight in the evening, we can blame, or thank, William Willet.  He is credited as the pioneer of daylight saving.  In 1907 William published a pamphlet "The Waste of Daylight" using his own resources.  It suggested moving clocks forward would conserve energy.
In high school history class, it was generally taught that Ben Franklin invented daylight saving.  Turns out, that wasn't the only inaccuracy from high school history!  (Grin)
So what is the Chris Martin of Coldplay and daylight savings connection?
Chris Martin's great-great-grandfather is … William Willet, the father of modern daylight saving.
Coincidence?
So in summary:
Clocks move backward one hour to end Daylight Saving Time
Daylight Saving Time was pioneered by William Willet
Whose great-great-grandson is Chris Martin, lead singer of Coldplay
Who had a hit called "Clocks".
Coldplay's Clocks won the Grammy for song-of-the-year in 2004.  Enjoy: